Yahoo Answers can provide very targeted traffic.
The concept of Yahoo Answers is that people ask questions and other people answer them. When you answer a question, you can put a link to your site in the source box. Yahoo Answers community have more than 250 million users. Yahoo Answers is a great way to promote your business and get free targeted traffic to your website.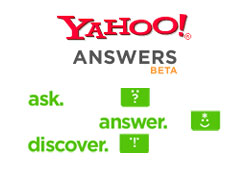 Here are three benefits of Yahoo Answers:
1) You get free, targeted traffic from people reading your answer.
2) Your answer will rank in the search engines and get traffic  – especially if your answer is chosen as the best answer.
3) You can get a quality backlink from your answer and boost your site's rankings. Yahoo Answers is considered an authority site by other search engines, and backlinks from Yahoo Answers are high PR (PR 8) backlinks.
How it works
Create an account.
Choose questions related to your niche.
Answer the question.
Use your keywords.
Add your link in the resource box.
How to get the best results from Yahoo Answers.
The key to getting targeted traffic from Yahoo Answers is to find questions that you can answer that are related to your niche and then send them to your website where you provide more information on the topic.
To get traffic from Yahoo Answers, you want to provide useful answers.
Do an advanced search to find the best questions to answer. To get the most relevant questions, search questions opened in the last seven days with your keyword or key phrase.  Then, answer the questions you can answer.
To get voted as the best answer, you need to provide quality answers. Read the question thoroughly, understand what is asked and give a targeted answer.
You can be banned if you abuse the system and consistently provide poor quality answers. As long as you follow Yahoo's terms of service and provide quality answers you will have no trouble keeping your account.
Start your answer with a greeting, e.g. "Hi, thanks for your question". Or better yet, mention the person's name, e.g. Hi John." This will make your answer stand out from the crowd.
Then provide your answer and end with something friendly such as "I hope this helps" and then sign with your name.
Only put your link in your answer directly if it has been asked for. Putting your link in every answer can get your account banned. Your link needs to go in the source box below your answer. People will see it and click on it, particularly if your answer is voted the best answer.
You can also use Yahoo Questions for market research. The questions will tell you what your audience is looking for and it will give you many ideas for blog posts.
Yahoo Answers provides a great method of generating targeted traffic to your website. It works well for most types of sites. I personally get a good amount of traffic from Yahoo Answers.
Check out Yahoo Answers here.  Find additional Questions and Answers sites here.