How can your customers pay you with credit cards or echecks online? How can you accept credit card payments on your web site or blog? How do you accept online payments without a merchant account?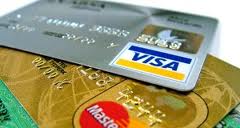 The vast majority of online customers will pay by credit card, debit card, electronic check or PayPal. Very few people will mail a check or money order. If you are not accepting credit cards online via a secured server, you will lose sales. You should accept as many card types and payments methods as you can.
To accept online payments, you'll typically need a merchant account, a payment gateway and a shopping cart. (I'll show you below how you can receive online payments without needing a merchant account).
A shopping cart collects the payment information, communicates with the payment processor and gateway, verifies that the credit card or echeck is good, and returns the authorization or denial to your site. This all happens almost instantly.
Shopping carts provide you with code to create Buy Now and Add To Cart Buttons. The shopping cart can calculate the shipping calculation, sales tax and shipping cost. You create a button by providing a description, price and other information such as shipping cost and sales tax. The system then provides a code that you paste in your web page to create the purchase button. The buyer clicks on your button to purchase and pays you directly through your Paypal, Google Wallet, Clickbank, your own merchant account or other payment processor. The server verifies the info and redirects to the thank you/download page. The system automatically sends your custom message to the buyer.
There are several easy ways to accept instant, secure online payments.
First, you'll have to decide whether you want to get your own merchant account or not and if you quality to get a merchant account. To quality for a merchant account, you need good credit and they don't accept all types of businesses (although they are more flexible today than they used to be a few years ago).
You'll have to pay monthly fees for both the merchant account and the software you'll need to process the payments.
Below I'm mentioning easy solutions that allow you to take payments online without having your own merchant account.
How to  Receive Payments Online
and Accept Credit Cards Online


Without

a Merchant Account
Third party providers allow you to take payments online without having your own merchant account and without paying monthly fees. They provide you with a shopping cart and a secure site where your customers can place orders. You receive your payment from the provider instead of from a bank or financial institution.
Popular Third Party Payment Processors
You should accept PayPal payments if you're selling services or products online even you're accepting other payment methods or have your own merchant account as it's a popular payment method that many people online are familiar with.
No sign-up fees.
No monthly fees.
Lower transaction fees than other merchants. 2.2%-2.9% of sales + $0.30 USD per transaction.
You can transfer money into your bank account and the money goes into your account within approximately 4 business days.
Google Wallet works similar to Paypal and the fees are low.
If you want to sell items online, you'll need to sign up for a seller account.
Fees for monthly sales under $3,000 are 2.0% + $0.30 per transaction. Fees go down when sales volume goes up. Some Google Wallet services are only available in certain countries.
You can get more info at https://support.google.com/checkout/sell/
I've been using Clickbank for about 10 years.
Clickbank specializes in downloadable products such as ebooks and software. It is a great option for selling digital products (e.g. ebooks and software) but does not allow sales of physical products (unless they are complimentary to digital products).
Clickbank accepts credit cards, online checks and PayPal payments.
Delivery – You must create a web page for every product you sell on Clickbank. There can be a potential problem if buyers close the browser before downloading the product and this could result in a refund request. Personally, I found that this does not happen often and Clickbank will get in touch with you if there a buyer contacts them about problems. (Some customers expect email delivery.)
You get a check in the mail from Clickbank from your sales every 2 weeks.
Clickbank gives buyers a 60 day guarantee. You can use that as a selling point and make buyers feel more comfortable.
Advantage: Offers a build-in affiliate program with a lot of exposure of affiliates who are looking to promote products.  You receive exposure through free listing on their website and through the search facilities of other websites.  You decide what commission you want to pay your affiliates.
No monthly fees.
Disadvantage: High transaction fee.
$49.95 activation fee   – $1 per transaction + 7.5% of sales.
E-Junkie
E-Junkie is a popular and inexpensive shopping cart and is a great option for newbies.
E-junkie lets you sell both electronic and physical products. They automate and secure the digital delivery of files.
Offers a delivery mechanism to sell your digital products, instant downloads, real-time credit card processing
E-junkie's built-in shopping cart integrates with PayPal.
Provides powerful tools for creating a shopping cart, upselling, digital delivery and secure downloads.
They also teach you how to code carts to change their look or turn them into a text link.
Setting up affiliate programs is easy.
Advantages:
Upsell – it lets you create a shopping cart and upsell other products. If yo're going to use upsells, this is a good, low-cost option.
Delivery – You don't have to create a web page. E-junkie sends buyers an email with a link to the product. This saves time for sellers and is less confusing to buyers.
Flexible and easy to use (easier to set up than Clickbank).
You can easily create discounts, make them expire, change prices, offer affiliate deals and more.
Disadvantage:
Offers no guarantee to customers.
Fees:
There is a flat monthly fee starting at $5/mo for up to 10 products (and higher if you have more than 10 products).
There are no transaction fees or other fees.
NOTE: I haven't used it personally to sell but I'm familiar with their system as a buyer and as an affiliate. I find their system user friendly for buyers. I also find good affiliate products there.
PayLoadz vs E-Junkie
PayLoadz provides an ecommerce platform that allows users to sell digital items.
PayLoadz places download limits and fees on the amount of sales you can make with their service (Ejunkie doesn't).
Fees are higher than E-Junkie.
You tend to get into the next higher price level whenever you get a spike in sales.
Provides less bells and whistles compared E-Junkie.
Conclusion: E-Junkie provides more benefits at a lower cost.
Advantages and disadvantages of third party providers
Advantages:
It's easier and faster to use a third party provider. You don't have to quality for a merchant account which typically involves having good credit. And you save the monthly fees for both the merchant account and the shopping cart.
Disadvantages:
You don't have full control.
You often don't get the payment immediately. E.g. It takes 4 days when transferring money from your Paypal account to get into your bank account. And Clickbank sends checks every 2 weeks.
The transaction fees can be higher than you would pay when having your own merchant account but that's not always the case. For example, Clickbank fees are high but the fees from Google Wallet and Paypal are very low. When you start generating enough sales, you can switch to a traditional merchant provider to save on transaction fees.
Get your own merchant account
When you start making enough sales, you'll pay less transaction fees by having your own merchant account. You also have more control and you'll get the money in your account right away.
You'll typically pay an activation fee and monthly fees for both the merchant account and the shopping cart (approximately $30/month for each).
Shopping carts
It's essential to accept credit cards when doing business online. Give your customers several different payment options to order your products or services.  Some customers don't have a credit card or don't like to order online, so you still want to give them the option of sending you a money order (although few people will).
I recommend
1shoppingcart
if you are already generating a good amount of sales and will use your own merchant account.
This is one of the most powerful shopping carts I've worked with
. It's a more professional option with a sophisticated shopping cart that requires a merchant account. It's one of the most well-known and one of the best shopping cart systems for accepting payments online.
You can use 1shoppingcart with your own merchant account and with Paypal.

You can set up many products, provide upselling options, have your download page expire automatically after a certain period of time, set up recurrent billing and even set up membership sites.

Features include: unlimited autoresponders, broadcasting, client database, ad tracking, and more.
Great phone support but you have to pay for it.
Great video tutorials.
Fees start at $29/mo. Or save 15% when paying for a year. Check the trial package for $3.95/mo (Remember that this fee does not include your merchant fees)
Summary: 1shoppingcart has many powerful features but it's more expensive than products like eJunkie.
Here's the legal mumbo jumbo:
I only recommend products I believe in whether they have affiliate programs or not.  I have used most of the products I'm recommending for my own web sites or clients' web sites. Some links are affiliate links, and if you click on an affiliate link and purchase something, I might get paid a small commission.