First, read why you should an affiliate program for your products and services
There are several ways to set up an affiliate program. You can use a script, join an affiliate network, or use a shopping cart service with a built in affiliate program.
First, you want to determine what functions and features you need. For example, do you want to set up one or more affiliate programs? Do you want to provide the same commission rate for each program?
Then, compare the benefits and cost of several methods or programs.
Purchase an affiliate software program. Affiliate software will track your affiliate sales and enable your affiliates to view their stats. This option requires that you run your own affiliate program. You are in charge of accepting payment and sending out commission checks. Affiliate software includes IDev, AssocTrac and Pro-Track.

Use a WordPress plugin
If you have a WordPress site, using a WordPress plugin is one of the easiest, fastest and least technical ways to set up your own affiliate program in house. There are several free and fee-based wordpress plugins to set up your own affiliate program. I checked out many WordPress plugins and purchased WP Affiliate Platform.The one I recommend and use myself is WP Affiliate Platform. Here's why I choose WP Affiliate Platform over other WP plugins.
At $49.95, it's the least expensive WordPress plugin.
It's user friendly and I found it easier to set up than some of the other options.
The documentation, videos and support of  WP Affiliate Platform is superb.
This plugin tracks the clicks, leads and sales.
You can use it on all your sites.
It integrates with paypal and many other shopping carts.
(This was important to me) You can set up this affiliate plugin for multiple products or services so affiliates get paid for any product or service they promote. The affiliate sale will be tracked  no matter where they land on the site or navigate to on your site (as long as they used an affiliate link).
You can configure banners, links and creatives that your affiliates can use on their site to drive traffic and sales to your site.
Also if the customer leaves the site and comes back later as long as the cookie is still active and present it will track the sale.
If you are running online ad campaigns for your products, you can use this plugin to measure the conversion rate of each campaign to find out the profitable ones.
You have the option in the plugin to enable lead capturing on your site.
Check out WP Affiliate Platform here.
Using a script. A script on your server will track the sales generated by your. You have to check the sales and amounts you owe your affiliate and pay your affiliates their commission.
Use a third party affiliate tracking company to run your affiliate program for you. These companies will track your affiliate sales, enable your affiliates to check their stats and send out commission checks for you. Affiliate tracking companies include Clickbank. Click Trade and 1ShoppingCart.
I used 1ShoppingCart to set up several affiliate programs for a client. It's a good option if you need a shopping cart, affiliate program and autoresponder all in one. The affiliate part of 1ShoppingCart is good if you only need an affiliate program for one product. But I didn't like it for more than one affiliate program. I like their shopping cart and autoresponder.
Affiliate networks. Affiliate networks will do the tracking and affiliate recruiting for you and make the payments each month. You should do additional affiliate recruitment yourself and not solely depend on the affiliate network's database. The affiliate network charges you a percentage for using their service. Well-known affiliate networks include cj.com (Commission Junction) and Linkshare.  These networks are expensive and are typically only used by large companies.
1. Clickbank – $50 set up fee.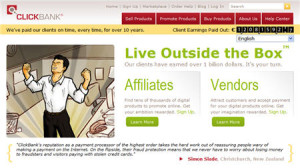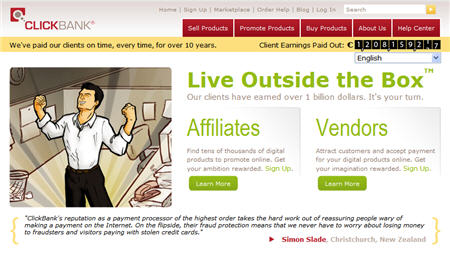 Clickbank is great for setting up affiliate programs for digital products such as ebooks and software. They have many affiliates that can sell your products. Clickbank will run your affiliate program and enable you to accept credit cards. They will bill your customers, pay you, and pay your affiliates a commission. They charge a one-time $49.95 activation fee, and a $1 + 7.5% fee per sale. There are no monthly fees.
Benefits: Clickbank is the first place affiliates go look for products to promote. So if you are selling electronic products, I highly recommend setting up your digital products with Clickbank to get easy exposure to affiliates that will promote your products.
Limitations: Clickbank won't accept physical products and you'll need special authorization for products over $100.
I've been using Clickbank for over 12 years now both as an affiliate and as a merchant. In addition to using Clickbank, I am also using  WP Affiliate Platform for my higher paid products and because there is no transaction fee.
I highly recommended Clickbank if you're selling ebooks, software and other electronic products.
Click here to visit clickbank.
Find out how to set up your product with Clickbank.
* * * * * * * *
IDev One time fee of $99.99 to $299 
Click here to find out more information about idev. It's the best in this price range and it works very well.
You can purchase IDev with a low, one-time payment of $99.99.
I've been using IDev as an affiliate and I have also set up affiliate programs with IDev for merchants so I am familiar with it from both the affiliate and merchant site. I found it user friendly as an affiliate.
The set up is user friendly. It works with almost all merchant accounts, shopping carts, billing systems and membership systems.
The support is great and I've taken full advantage of it. There are also training videos that walk you through every step of the process.
I highly recommend it as the best in this price range.
Click here to find out more information about idev.
* * * * * * * *
1ShoppingCart –  Starts at $29/mo – Pro version is $99/mo and includes shopping cart, autoresponder and affiliate model.
1shoppingcart provides a robust shopping cart and also provides an affiliate module and an autoresponder. It's a great solution to have three products in the same place.
I've set up several products with 1ShoppingCart's affiliate module. I am also using 1ShoppingCart as an affiliate.
Here's my opinion:  1ShoppingCart's affiliate  tools are good if you only need an affiliate program for one product and it's a good solution if are using or want to use 1hoppingcart as your shopping cart so you'll have everything in one place. But if you want to set up affiliate programs for several products, it can be confusing for affiliates.  The first program you set up becomes the default and that's the one they'll see first.
You should consider 1ShoppingCart's to set up your affiliate program if you want to use 1shoppingcart as your shoppingcart and only need an affiliate program for one product.  (I do recommend 1shoppingcart highly for your shopping cart needs).
Click here to visit 1shoppingcart.
* * * * * * * *
Paydotcom – Free for the first product.
PayDotCom is an inexpensive solution for online vendors. I am using Paydotcom both as an affiliate and as a merchant. My reason for using both ClickBank and Paydotcom is to get additional exposure from affiliates. I am getting a lot of exposure from Clickbank but I don't get much traffic from Paydotcom. E-Junckie is more popular than Paydotcom today.
Here are some benefits of Paydotcom:
It's easy to get started and set up new products. This makes it a great resource for people who are new to selling products online.
Sell physical products, digital products, and monthly billing (subscriptions and memberships).
No pre-approval needed to sell your products.
No maximum dollar amount.
Built-in affiliate program with affiliate tools.
Immediate payment from sales. Transactions are processed through Paypal and StormPay and the payment goes directly to you in those accounts. No waiting for weeks before you get paid.
No signup fee – Get a free account to sell your products.
Low fees. There is no set up fee for the first product.  If you want to promote more than one product, there's a one time, lifetime activation fee of $29 to sell unlimited products. There is a small fee if you want to promote more than one product. You don't have to pay fees for each new product you add.
$1 to $3 per transaction. No % of sales. PayDotCom.com charges a small fee for each sale. This fee will automatically be deducted from the affiliate's commission and paid to PayDotCom.com by the vendor. This is all automated. The small processing fee is based on the price of each sale as follows: $0.50 (sales under $10), $1.00 (sales from $10.01 to $20.00), $1.50 (sales from $20.01 or more).
Ad tracking. Offers good reporting capabilities.
There is no shopping cart. Customers can only buy 1 item at a time.
Click here to visit paydotcom.com
E-Junkie has become popular for setting up your own affiliate program and finding other people's affiliate programs to promote.  E-junkie's affiliate system is free for affiliates to use.
To use E-Junkie to providing an affiliate program for your products, you just pay $5/month. There is no transaction limit and no transaction fee. This is an inexpensive way to set up your own affiliate program. Click here to get more information about E-Junkie.
I have used E-Junkie as an affiliate and have found some good affiliate products there. Affiliates can view reports of their referrals that generated sales.  But E-Junkie does not track or report affiliate link click-through rates.
I have not used E-Junkie to set up affiliate programs.  However, some people have commented that their affiliate program is not that great – if you're selling more than one product on your site. I think that's correct as I found it a little confusing the first time I signed up for an affiliate program from someone who has multiple affiliate programs.
My research indicates that E-Junkie also provides a great shopping cart that many people use and recommend. I bought products that were set up through E-Junkie and agree that the shopping cart is user friendly. It supports multiple payment processors but won't work with TrialPay checkout payments.
Click here to get more information about E-Junkie.
Provide Affiliate Tools
Make it as easy as possible for your affiliates to sell your products. Provide a large selection of banners in a variety of sizes. Also provide them with text links, articles, email messages, keywords and more. Providing training is a good idea too.
Conclusion
There are many more affiliate programs than I've mentioned here. My recommendations will vary depending on your needs and budget. If you're just starting out, using one of the third party affiliate companies is the easiest way to get started as everything is taken care of for you.
RESOURCES

Affiliate software:  IDev – 1shoppingcart

Affiliate directories: Clickbank –  cj.com –  linkshare.com – Paydotcom
Here's the legal mumbo jumbo:
I only recommend products I believe in whether they have affiliate programs or not.  I have used all the products I'm recommending here either for my own web sites or clients' web sites. Some links are affiliate links, and if you click on an affiliate link and purchase something, I might get paid a small commission.