What is a ping?
By pinging your posts, you are letting the search engines know that you published a new post or made changes to your site. A ping helps search engines find your posts and pages faster and helps your posts to get indexed quickly.
So why should you want to ping?
You should ping to get indexed and get traffic. Pings notify search engines and blog ranking services that you've updated your blog so that they can index what you've added. Now people browsing sites like Technorati or Sphere can find your most recent posts!
Here's what Ping-O-Matic explains:
"Pinging is all about getting your new posts out into the world, ensuring your readers see your latest stuff, and driving more traffic to your site. Services like Technorati spider your links to track who links to you and who you link to; almost in real time. If you show up on someone's Technorati link list they're likely to visit your site to see what you said, increasing your exposure. Other sites like weblogs.com and blo.gs list recently updated blogs. Lots of people browse these. Blogrolling scripts like blogrolling.com and WordPress check update services to see if you've updated and then shows it on everyone's site – usually by moving you to the top of people's blogrolling list or putting a recently updated indicator by your link."
Can you better understand now how pinging helps you gets traffic to your site?
How to ping
See some videos showing you how to ping with Pingomatic.
Unless you changed the default settings to private and unsearchable, WordPress blogs are automatically set to ping through Pingomatic. So, each time you publish or edit a post using WordPress, WordPress (Pingomatic) automatically "pings" all the major search engines. This means that you don't have to ping manually and you don't need to do anything to ping your posts when using WordPress.
The problem is that if you edit a lot of posts, multiple pings are sent out which can cause ping services to mark your blog as spam! Some WordPress plugins can fix this and prevent WordPress to ping your edits. I recommend to disable the default ping settings on WordPress or other platforms when using a pinging plugin or pinging service. We cannot comment on how the ping resources will react to 'over-pinging' but we strongly suggest that you refrain from using other pinging services alongside to Pingler to avoid any detrimental situation as a consequence.
Pinging Resources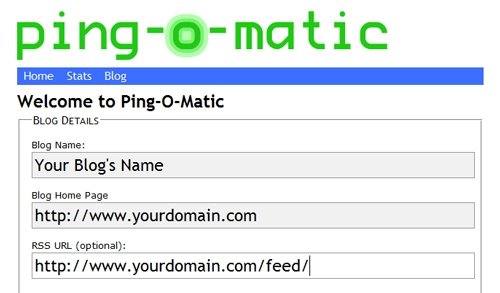 Ping-o-Matic! http://pingomatic.com/ Pingomatic is a popular bulk pinging service that alerts (pings) multiple RSS aggregators/search engines in one action when there is a new post on your blog. This saves you from having to register your blog to all of the services individually. It is the same service that WordPress uses.
Pingler – https://pingler.com/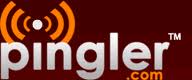 You may use Pingler to ping static or dynamic sites, any web pages and blogs. Pingler is not limited to blogs and they encourage users to ping all pages on their websites or blogs for maximum exposure.The basic premium account allows you to store 25 Links (URLs) in your account. These links will be automatically pinged every three days. A premium account saves you the hassle of having to ping each of your links manually, and it also ensures that pinging is performed frequently and in a timely manner. The basic package is $2.99 / month and they offer different packages up to 10000 URLs!
Feed Shark pings over 60 services – Feed Shark pings a variety of services to notify the world that your blog, website, RSS feed, or podcast has recently been updated or created! http://feedshark.brainbliss.com/
Pingshot, a service provided by Feedburner that alerts most popular ping services.  PingShot is a quick notification service that enables your feed to be updated in the widest variety of places as quickly as you add new content. For real-time delivery, publishers should ping FeedBurner with their website's link after they publish new content. Publishers must sign in to their Google account and activate the service from Feedburner.
Link Centaur, a link indexing service.  A free account allows you to add up to 50 URLs a DAY. http://www.linkcentaur.com/
Ping List Pro, a WordPress plug-in that prevents WordPress to ping your edits.
Tips
Ping all your posts.
Don't ping too fast because you could get your ISP blocked.
Don't ping too often, you can get your blog flagged as spam.
Avoid frequent pinging of the same content.
Search engines prefer fresh unique content. Dynamic sites produce the best results, however regular pinging will also help increase your backlinks and help drive organic traffic. Some people are reporting good results from pinging the content of their static websites every three days.
Pinging is important to help you get traffic. But remember that you need to get original, quality content to turn your traffic into profits.
SEO RESOURCES
Review of Traffic Travis .  It is an all-in-one SEO and research software tool that helps you boost your website traffic. It includes search engine optimization, pay-per-click  and general market research.  You can track your own site's performance and you can also peek under the hood of your competitors' sites.