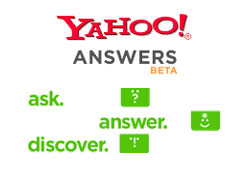 You might have heard that about Yahoo Answers but there are many other question and answer sites.
Question and answer sites are great to get answers to your questions. But you can also use them for Internet Marketing. Simply answer questions related to your niche and mention your website in the resource box.
It's a great way to get high PR links. If you want to get links, just select one or a couple of the most popular ones such as Yahoo Answers, eHow or WikiAnswers. Below is a listing of additional question and answer sites.
Check out these question and answer sites now and take advantage of them to get quality links.